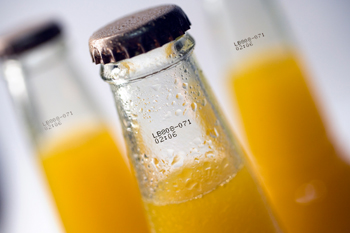 Marking equipment that can inscribe any information from the usual date of the date High quality printing, equipment reliability and the ability to quickly switch between different container volumes will allow your company to maintain production and meet demand, especially during peak seasonal loads.
Ink jet coder reliability – this is essential: production lines are getting faster, marking equipment must be able to cope with the increasing workload, especially in harsh industrial environments where sugar or water can interfere with the coder.
Feedback from FMCG companies has shown that manufacturers prefer simple and cost-effective solutions for labeling bottles and cans. Laser markers are becoming more and more in demand for solving problems of filling on high-speed lines, since they exclude constant costs for consumables and routine maintenance.
Modern laser systems can mark equally well on glass bottle, PET and label. In the first case, thanks to the control of the radiation frequency, it is possible to obtain a contrast marking without loss of glass hardness. If the marking is applied to the label, which is typical for beer lines, then in this case the line speed can reach 100000 bottles per hour without loss of code quality. packaging is also important for fast and convenient delivery of products from the factory to the counter. Barcode, expiry date, product name and company logo become an integral part of the packaging. Modern cardboard markers are extremely compact, while the size of the print and the location of the information can always correspond to the type of packaging: box, showbox or tray. In addition, modern carton coders can apply two colors or even full color markings.
An alternative to the cardboard marker can be technology Print & Apply. It differs from direct printing high resolution and contrast on any type of cardboard. Additionally, this technology is indispensable if products are shrink-wrapped.
ADVANTAGES OF LABELING SOLUTIONS
Full color printing for retail
Laser marking of packaging
Thermal transfer printing on film